---
Searching Our Database:
Some Practical Tips/Suggestions
---
Our entire inventory of merchandise is searchable. Being creative and thorough in the strategies you use to search for items we have in stock is likely to be the most effective way of finding everything that we have that might be of interest to you.
For example, suppose that you were interested in purchasing this item: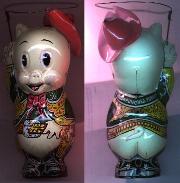 If we happened to have this item in stock, you might find it by searching our database in the following ways.
You could type in Porky Pig to find this item, since that is the character that is featured.
You could type in Looney Tunes or Warner Brothers to find this item, since that is the cartoon series and animation studio that manufactured it.
You could type in tin toy or wind-up toy to find this item, since both of those descriptors tell you what type of item this is.
You could type in Marx to find this item, since that is the company that manufactured it.
You could also find this item by typing in 1939, since that is the specific manufacturing/copyrighting year. If you choose to search by year, please note that many of our items are NOT marked with specific copyright information. (This is true for almost all Walt Disney items, for instance.) Other items are marked with copyright years, but these years indicate when the image for that particular item was licensed, not when the item itself was manufactured. (This tends to be true for Peanuts and Garfield items, for example.) Whenever specific year-of-copyright information is not available, our database lists the likeliest decade or decades during which the item in question was probably made. If the Porky Pig item shown above did not have a specific copyright year marked on it, our database would list its manufacturing year either as "1930s" or as "1930s/1940s", depending upon what our best guess would be as to its correct age.
Please note a few additional things:
All of our merchandise is listed alphabetically, based upon the name of the character in question. Items featuring Herman Munster would, therefore, be found on one of our "H" pages.
In each item's title listing, beside each character is the name of the animation studio, cartoon series, comic strip, or television program from which that character came . . . in parentheses. This feature makes it easier to do categorical searches. In this manner, if you collect Flintstones items, you could simply type in "Flintstones" and get a page-by-page listing of all pages containing Flintstones items, regardless of the specific character in question.
Sometimes, items feature more than one particular character. In most of these instances, the item will be listed underneath the heading of the animation studio, cartoon series, comic strip, or television program rather than under each and every character shown. For example, recently, we had a collectible Christmas cookie tin with Donald Duck, Daisy Duck, Mickey Mouse, Minnie Mouse, Goofy, Pluto, Huey, Dewey, and Louie shown on it. In this database, that item would be found in the "W" listings as a "Walt Disney" item. It would not be found in the listings for any of those individual characters. We do this as a space-saving tool, and also so that you do not find multiple listings of the same item as you look through our merchandise. Our goal is to make sure that each and every item you see is the only one of its kind on our web site.
09/20/14 04:27 PM